Finally we get a pleasant, sunny, evening ride after a wet couple. So, what better than to look to the sun and the south city Trumpington Meadows Country Park?
The start point, as always, is from from
The Mill
by the river in the centre of town.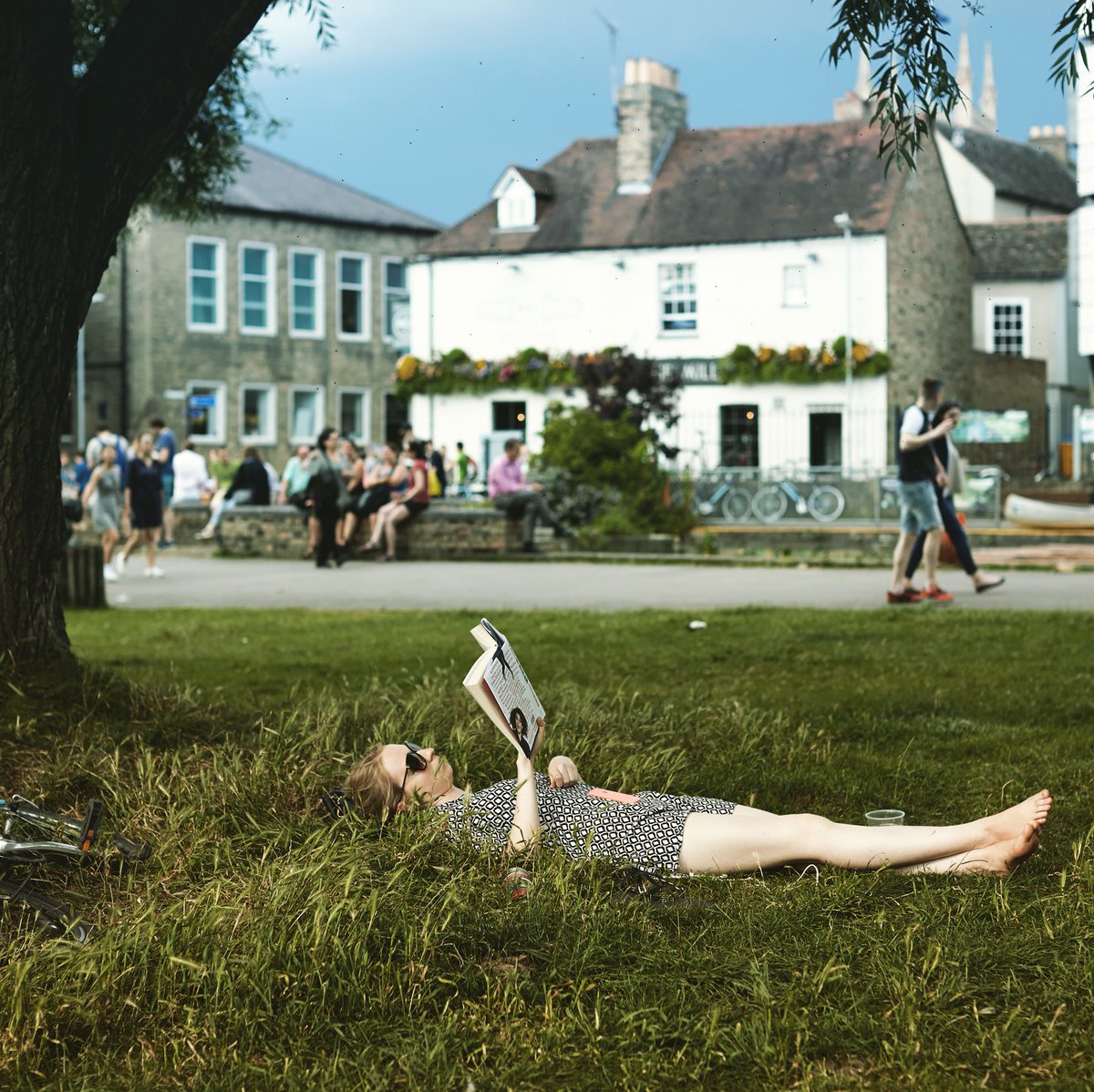 The Mill in Sunnier Times (from their twitter stream)
Here's the route.
Open Map Larger
.
A short meander around west Cambridge, with the sun dripping off the tops of the hedges and verdant trees, but constantly heading towards Grantchester. Getting out of the city feels great on this lackadaisical Friday early evening, even cars are a rare and hardly noticed event.
Once through the beautiful Grantchester and across the river valley, the turn ito the route to Byron's Pool was welcome. We decided to drop the bikes (quite hard!) and walk down to the pool. Discovering ducks and the fish route round the weir was a
little special
.
So then off across Trumpington Meadows Country Park. It was just lovely. And clearly not well known about. When I had a look for any online activity about it I could only find rather
awkward PDF
history, and the
local residents association run down
which, whilst enabling lots of images, could really do with someone with website design experience (a bit like I might need to!).
So, it's great for people to walk and ride for a place to go. In some sense, it also could be used as a route through for people cycling from Harston and beyond into the city centre. Staying away from the awful road from the M11 to Trumpington High Street would be great. This could be the beginning of a green route in just like the other end of the river going out across Ditton Meadows. Of course it needs to be done right, but that should be easy with the space that's here.
On the way back we had a look at the new
Clay Farm
developments near the Guided Busway. It's great to see a new community centre appear, I hope it's well used.
We did wander up Limes Avenue and were quite disappointed. For a new development with so much space, why no dedicated cycle infrastructure? This would have been so easy to do, but there's absolutely nothing. On top of that, the development sticks to 1970s design models by making lots of straight roads, encouraging speeding by drivers. Again, and I know there are other issues, why not look at Cambourne? A place where few people drive faster than 20mph because it's too hard to go faster. Just like Eddington we seemed to have gone backwards. And this is a town where you'd have thought they would be thinking about these kind of things. But no. A poor development, infrastructure wise.
Here's the video of the route. Look out, music!
(Go HD see * below)
0:11 Starting from The Mill
0:43 The road to Grantchester
1:01 The Blue Ball
1:14 The Green Man
1:37 Heading for Byrons Pool
2:03 Entering Trumpington Meadows Country Park
2:25 The Lark Sculpture
2:36 The Hare Sculpture
2:48 Pool
3:42 Harston cycle route
3:53 Clay Farm Centre
4:14 Limes Avenue
4:45 Returning to The Mill for a pint and a natter

* How to go HD.